The CONVERGE facility of the Natural Hazards Engineering Research Infrastructure (NHERI)— headquartered at the Natural Hazards Center—is pleased to announce the release of its latest online training module: Broader Ethical Considerations for Hazards and Disaster Researchers.
The module discusses important ethical considerations for conducting disaster research and describes how ethical issues can permeate and cause challenges in such work. This course is part of a series of online training modules designed to support hazards and disaster researchers and research teams to conduct ethical and methodologically sound studies.
Ethical Decision-Making in Disaster Research
The newest CONVERGE training module builds on the recently released Institutional Review Board (IRB) Procedures and Extreme Events Research Training Module by discussing ethical issues and dilemmas that can occur outside the purview of an IRB. The Broader Ethical Considerations Training Module begins by defining research ethics holistically and describes ways in which ethical decision-making can influence study design, data collection, and the reporting of research results. Examples of distinctive ethical challenges associated with conducting disaster research—such as obtaining consent from disaster survivors and working in international and cross-cultural disaster settings—demonstrate the different ways ethics manifests within hazards and disaster research.
"Awareness of research ethics helps to ensure investigations promote scientific knowledge that benefits academic communities and the people and places being studied," said Rachel Adams, a research associate at the CONVERGE facility and one of the lead developers of the module. "We demonstrate how ethical decision-making occurs at each stage of a study, from deciding what questions to ask survivors to sharing results with stakeholders."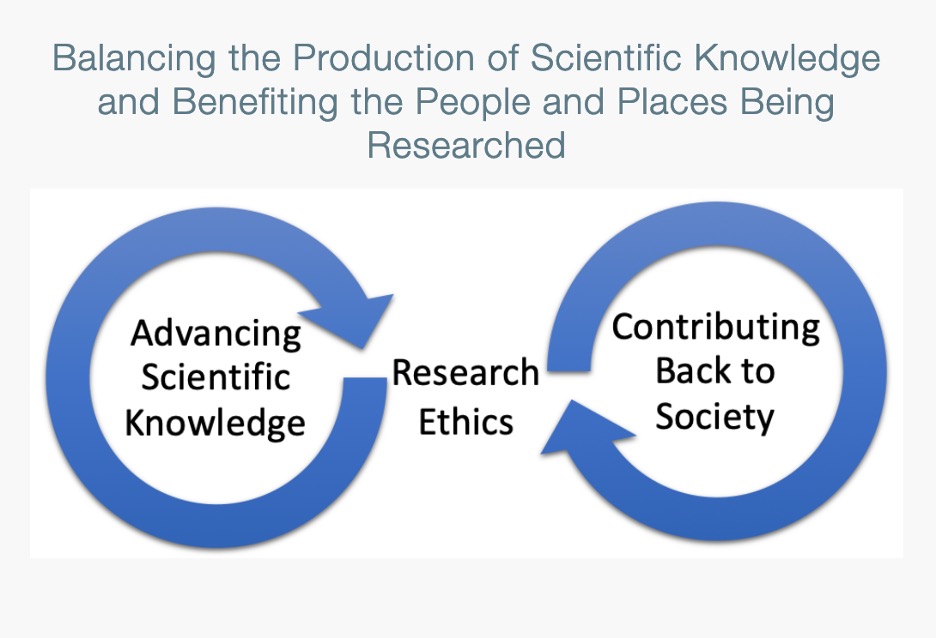 The Broader Ethical Considerations Training Module discusses how research ethics balances the production of scientific knowledge with benefiting people and places being researched.
The interactive module includes sliders and diagrams to describe key concepts related to research ethics, such as informed consent, participant burden, and research participant selection. The module concludes with a discussion of strategies for conducting ethically sound disaster research.
"While there may not always be a right or wrong answer to every ethical dilemma a researcher encounters, being familiar with common ethical concerns and knowing how to apply ethical frameworks can help with these challenges," said Candace Evans, graduate research assistant at CONVERGE and the other lead developer of the module. "This training provides recommendations for engaging in methods and strategies to enhance the ethical conduct of disaster research.
"Our hope is that by taking this module, researchers from diverse backgrounds and disciplines will be able to develop their own ethical toolkit that will allow them to engage in practices that balance study risks and potential societal benefits," said Lori Peek, principal investigator of the NHERI CONVERGE facility. "This module provides the tools needed to develop a flexible ethical compass to guide decision-making during research."
---
---
The CONVERGE website includes lists of available resources and previously released modules on topics of social vulnerability and disasters, disaster mental health, cultural competence, Institutional Review Board procedures, emotionally challenging research, and gender-based violence in fieldwork. The next training modules to be released in the series include:
● Collecting and Sharing Perishable Data (in partnership with the Centers for Disease Control and Prevention)
● Reciprocity in Field Research (in partnership with the U.S. Geological Survey)
● Public Health Disaster Research (in partnership with the Centers for Disease Control and Prevention)
To receive updates and information on new CONVERGE training modules and other free online resources, please subscribe here.
---
About the Natural Hazards Engineering Research Infrastructure
Funded by the National Science Foundation, the Natural Hazards Engineering Research Infrastructure—NHERI—is a network of experimental facilities dedicated to reducing damage and loss-of-life due to natural hazards such as earthquakes, landslides, windstorms, and tsunamis and storm surge. It is supported by the DesignSafe Cyberinfrastructure. NHERI provides the natural hazards engineering and social science communities with the state-of-the-art resources needed to meet the research challenges of the 21st century.
---
Acknowledgements
This CONVERGE Training Module is based upon work supported by the National Science Foundation Natural Hazards Engineering Research Infrastructure (NSF Award #1841338) with supplemental funding from the Centers for Disease Control and Prevention. Any opinions, findings, and conclusions or recommendations expressed in this material are those of the authors and do not necessarily reflect the views of the NSF or CDC.