University of South Florida graduate student Michelle Saunders interviews a family evacuating with their pet parrot before Hurricane Irma. Saunders was part of a team of quick response researchers led by Professor Jennifer Collins. ©Emily Cerrito, 2017.

It has been a record-breaking year for disaster. For many, the range of disasters, the breadth of the damage, and the magnitude of human suffering and loss has been difficult to witness. Still, it is at these moments—while the impacts are visible and recovery is just beginning—that researchers can learn disaster lessons that aren't normally available.
The imperative to collect perishable data has driven the Natural Hazards Center Quick Response Grant Program for nearly 35 years. The program, which is funded through the National Science Foundation Humans, Disasters, and the Built Environment Program, provides small grants to help researchers travel quickly to disaster-stricken areas and document disaster before memories fade and physical evidence is erased. The program also helps support local researchers by funding nominal data collection costs.
This year Natural Hazards Center staff have reviewed a number of strong proposals in a variety of disciplines. To date, we have activated 18 grants that will allow more than 30 researchers—many of them graduate students and new professionals—to enter the field.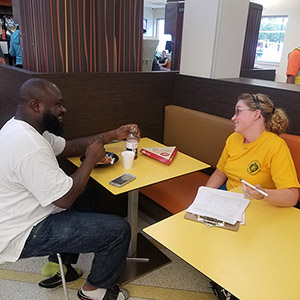 University of South Florida student Amy Polen conducts an interview assessing evacuation behavior ahead of Hurricane Irma. Polen is one of several undergraduates to gain field experience while doing Quick Response Grant-supported research with USF Professor Jennifer Collins. ©Jennifer Collins, 2017.
The recent grants cover topics that include evacuation behavior, food chain disruptions, public health in recovery planning, the role of prison inmates in disaster, the Federal Emergency Management Community Rating System, protection of undocumented immigrants, and many aspects of vulnerability. Research will be carried out in locations that range from Florida and Texas to Puerto Rico to Vanuatu.
"This work will help advance disaster science and, over the long-term, will be of great practical significance in informing response planning and ongoing recovery efforts," said Natural Hazards Center Director Lori Peek. "The research teams that are now entering the field are exploring questions of vital importance regarding built, social, and natural environments."
Because of the preliminary nature of the quick response research, it often serves as the basis for more in-depth and longitudinal work. The researchers funded during this cycle of the program have indicated that the data collected during their Quick Response Grant Program work will provide the basis for toolkits and help support applications for programs such as the NSF RAPID and National Institute of Environmental Health Sciences time-sensitive grants. They will also play a role in several academic dissertations.
For instance, J. Carlee Purdum, a doctoral student at Louisiana State University had been crafting her dissertation to look at prisoner labor in disasters—specifically a program in Georgia that trains prisoners to be firefighters and first responders. When Hurricane Irma hit, the prisoners were activated and deployed to impacted communities.
"I needed to be in the field quickly in order to gather perspectives and detailed knowledge about the program's role beyond that of day-to-day emergencies, but in a disaster," Purdum, who received one of the recent grants, wrote in an email. "The Quick Response Program provided the resources to gather this unique and incredibly valuable data."
Getting into the field quickly helps researchers collect the data they need to use for analysis—and sometimes it helps them find information they didn't know was there.
University of North Texas researchers Mary Nelan and Ronald Schumann were in the Rockport, Texas, area in late September to study how formal and informal gathering places serve as points of convergence for aid workers and community members, and how those systems evolve during the course of recovery. On the way to their destination, they came across several emergent camps where displaced people and volunteers mixed. The camps were slated to close soon.
"What we were finding is that emotional support wasn't really available 30 days after the event," Nelan said. "We would not have seen that if it were not for the Quick Response [grant] that let us get in there right after the event."
While these contemporaneous observations help researchers get a better understanding of events, they also help the larger research community. Grantees deliver a 5-15 page report of their initial observations to the Center within 90 days, so what they learn is available everyone.
Those interested can learn more about the program and read past reports on the Natural Hazards Center Quick Response page. Upcoming reports from 2017 grant recipients will also be posted there as they are submitted.
Recently Funded Quick Response Grants
Jennifer Collins and Robin Ersing, University of South Florida: Behavior at the Time of Expected Hurricane Landfall: An Assessment of the Effects of Social Networks
Mary Nelan and Ronald Schumann, University of North Texas: The Evolution of Gathering Places during Response and Recovery following Hurricane Harvey
Courtney Page, Northeastern University: A Mixed Methods Investigation of the Effects of Social Capital and Social Media on the Disaster Recovery Outcomes of Hurricane Harvey
Nicole Hutton and Michael Allen, Old Dominion University: Powerless and Vulnerable: Assessing the Capacity of Elderly Healthcare Services following Hurricane Irma
Bruno Takahashi, Manual Chavez, and Yadira Nieves, Michigan State University: Radio Practices and their Impacts during Hurricane Maria in Puerto Rico
Jenna Tyler, University of Central Florida: Exploring the Relationship between the Federal Emergency Management Agency Community Rating System Program and Business Disaster Recovery after Hurricane Irma
Paul Chakalian, Elizabeth Kurtz, and David Hondula, Arizona State University: Understanding Vulnerability and Adaptive Capacity to Large-Scale Power Failure in the United States
Jungwon Yeo, University of Central Florida: Florida Commmunity Capacity for Protecting Undocumented Migrants during Hurricane Irma 2017
J. Carlee Purdum, Louisiana State University: Hurricane Irma: Prison Inmates, Disaster Resiliency, and Social Vulnerability in the Georgia Department of Corrections Fire and Life Safety Program
Mallory Kennedy, University of Washington: Building Back Better: Understanding How Health Considerations Are Incorporated into Local Post-Disaster Recovery Implementation
Sherri Brokopp Binder, BrokoppBinder Research and Consulting and Alex Greer, Oklahoma State University: Exploring the Role of Implementing Agencies in Home Buyouts: Process, Equity, and Inclusion in Program Design and Implementation
Uriyoan Colon-Ramos, The George Washington University: Documenting Food Chain Disruption among Vulnerable Communities in Puerto Rico after Hurricane Maria and Identifying Opportunities for Food Commodities to Fill the Gap
Kelsey Dancause, Université du Québec à Montréal: Distress Due to Displacement and Repatriation of an Entire Island Population in the South Pacific
Shadi Azadegan, Colorado State University: Dimensions of Vulnerability and Well-Being in a Low-Income Hispanic Neighborhood During Disaster Recovery
Andrew Rumbach and Esther Sullivan, University of Colorado Denver: Hurricane Harvey, Mobile Home Parks and Flood Risk
Laura Pittman, Northern Illinois University: St. Thomas Strong Study
Ariana Valle, University of California, Los Angeles: ¡Puerto Rico Se Levanta!: Hurricane María and Narratives of Struggle, Resilience, and Migration
Adriana Garriga-López, Kalamazoo College and Alexa Dietrich, Wagner College: Food Production and the Impact of Water Shortages in Puerto Rico after Hurricane Maria: An Early Status Assessment
More information on the above grants is available on the Recently Funded Quick Response Grants page.