Each year, the University of Colorado Boulder's Office of Postdoctoral Affairs (OPA) and the Postdoctoral Association of Colorado Boulder (PAC Boulder) celebrates National Postdoc Appreciation Week (NPAW). NPAW, which is sponsored annually by the National Postdoctoral Association, celebrates and recognizes the outstanding contributions of postodocs to their institutions, as well as the exceptional mentorship of the advisors that help make their work possible. This weeklong event begins with a special luncheon that recognizes award recipients for a number of programs and honors.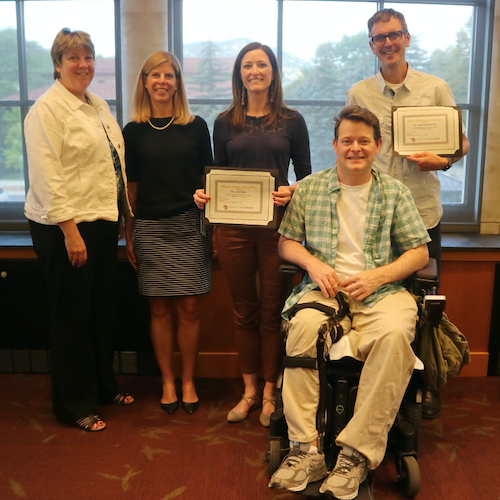 L-R: Terri Fiez, Karen Regan, Lori Peek, Mason Matthews, and Jason Boardman. ©Lori Peek, 2020.
This past academic year, Natural Hazards Center Director and Professor of Sociology Lori Peek was among the two recipients of OPA's Outstanding Postdoc Mentor Award. This prestigious, University-wide award recognizes exceptional advisors in their mentorship and guidance of postdocs. Peek, a recipient of almost a dozen teaching and mentoring awards, was nominated by postdocs Rachel Adams, Mason Matthews, and Haorui Wu, who described her as "inspiring," "trusting" and someone who has enriched the lives of postdocs at CU Boulder.
"I was very surprised and humbled to receive this award," Peek said. "The postdocs at the Natural Hazards Center have taught me and the entire team so much. This recognition is a direct reflection of their generosity of spirit and mind."
For more information on this and other awards and opportunities, visit the University of Colorado Boulder Office of Postdoctoral Affairs.