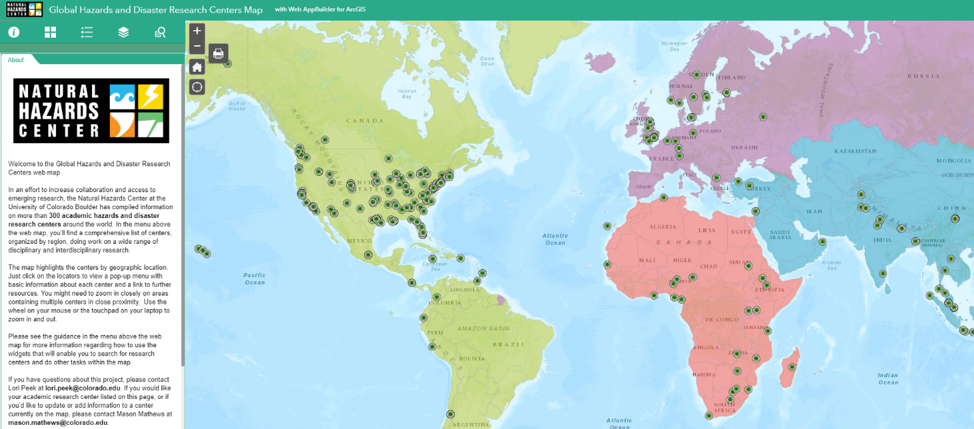 The Global Hazards and Disaster Research Centers Map enables users to search for academic hazards and disaster research centers and make connections in many ways. Map created by Mason Mathews, Emma Hines, Jeffrey Gunderson, and Lori Peek. Source: Natural Hazards Center, 2019.
In the early 1970s, a team of graduate research assistants working on the landmark Assessment of Research on Natural Hazards came to Gilbert White with an insight. After months of reading everything that they could find in the published literature about floods, earthquakes, tornadoes, and a dozen other natural hazards, they had come to recognize something of fundamental importance.
Although still in its nascent stages, there was a growing community of social scientists and engineers who were examining natural hazards and disasters. Those researchers were often conducting similar studies in different contexts, but they did not seem to be in communication with or, in some cases, even aware of one another. More concerning still was that the research being amassed was not making its way into the hands of those who needed it most, including local decisionmakers, emergency managers, mitigation practitioners, and policy makers at federal agencies.
This makes sense, considering there was no Internet, no email, and no other real means for rapidly sharing information in 1972 when the group involved in the First Assessment had their epiphany. What, then, was to be done?
Deeply pragmatic and always ready to listen, Gilbert asked the graduate students how they thought this research to practice to policy divide could be bridged. They came up with a series of ideas. The field should have a library to serve as the physical home for hazards and disaster related books, journal articles, and reports. It also needed a newsletter to share research and policy updates. That meant that there would have to be a mailing list. They also decided that there should be a meeting space—a Workshop—where researchers, practitioners, and policy makers could come together. Those initial conversations planted the seeds for an information clearinghouse that would eventually become the Natural Hazards Center.
Fast forward to 2019. Those early ideas still drive much of what we do here at the Natural Hazards Center. Making connections has always been fundamental to our mission. The passage of time and the advancement of technology hasn't changed our vision to work with others to reduce the harm and suffering caused by disaster, but it does change the ways in which we are able to share information.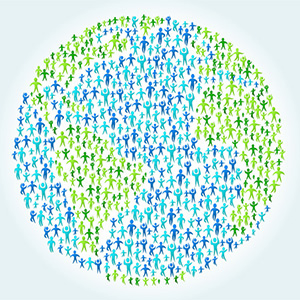 Most recently, the team here finished a major update to our online listing and interactive mapping portal of university-based hazards and disaster research centers. This Global Hazards and Disaster Research Centers Map is designed to increase connections, communication, collaboration, and access to emerging research both within and across nations.
As of February 2019, we have identified 347 university-affiliated hazards and disaster research centers globally. On the map, you will find the world's first research center – the Disaster Prevention Research Institute at Kyoto University in Japan, which was founded in 1951. You can also see the first in the United States—the Disaster Research Center, established in 1963 at The Ohio State University and now located at the University of Delaware.
Over the decades, the number of centers has grown substantially and the areas of disciplinary focus have widened to encompass the social, behavioral, and economic sciences; natural sciences; engineering; public health and medicine; public policy; and the humanities. Many of these centers have unique equipment, laboratories, and testing facilities designed to conduct cutting edge research.
The United States is home to the highest concentration of academic research centers on the map—150 identified so far. But we also know this effort is incomplete. We relied on our Natural Hazards Center databases, internet searches, and the feedback of some generous colleagues to update this list, but that is not enough. We could use your help. The map is meant to be a living repository, so if you know of a center that is not currently listed, please email me at lori.peek@colorado.edu so we can add those additional resources.
We launched this initiative because the landscape of hazards and disaster research is changing rapidly. With more academic centers globally, and with the increased ease of distributing information, it is as important as ever to share expertise across borders and boundaries and to recognize the work that is occurring the world over.
When I look at this map, I see a sort of global line of defense against the various climate crises that our world is currently confronting. As disasters have grown in frequency and magnitude, they require a response that is proportional to the damage and destruction wrought. The researchers at these centers are generating crucial knowledge that can help to turn this tide. Helping to make these connections has long been part of our history, while the present reality pushes us forward with a growing sense of urgency. Each new disaster serves as a grim reminder that this is what the world demands of us.
Please take care of yourself and others.
Lori Peek, Director
Natural Hazards Center