©MT23, 2009.
The counts are still being tallied, but one thing is abundantly clear about 2017—it will go down as one of the costliest years for disasters on record. The reinsurance agency Swiss Re assigned a price tag of $306 billion in global losses for this past year, while the most recent estimates from Munich Re indicate insured and uninsured losses will likely exceed $330 billion. Some 40 to 50 percent of those economic costs were concentrated in the United States, which, in the latter half of 2017, experienced a rapid succession of hurricanes, floods, landslides, wildfires, severe storms, and other extreme weather events.
While 2017 was indeed a historic year, these disasters must be placed in the context of an ongoing, decades-long pattern of soaring losses linked to poor land use planning, unsustainable development, population growth in high-risk areas, rising social and economic inequality, and myriad other human processes.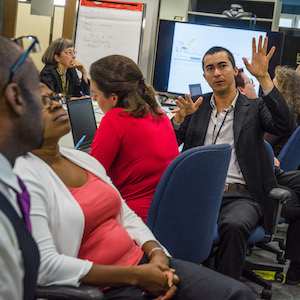 Urban designer Walter Meyer discusses redesigning New York coastline after Hurricane Sandy using ecologically sound solutions. ©K.C. Wilsey/FEMA, 2013.
Although enhanced building codes, stronger government regulation, advanced warning systems, and other technical and social interventions have reduced the number of disaster-related deaths globally, the human toll of these events remains terribly high. The National Oceanic and Atmospheric Administration estimates that 362 people died in U.S. major disasters in 2017, and the final count could be much worse. The loss of life throughout Asia, Africa, and Latin America was much higher, as some of the world's most vulnerable people—who often live in the most vulnerable places—were struck low by a seemingly unending series of monsoons and mudslides; droughts and heatwaves; earthquakes and floods.
The sheer frequency and intensity of these disasters has been truly dizzying. But it is at moments like these, when there has been an acceleration of disaster losses, that we can best respond by slowing down. It seems imperative that we let the enormity of all the disruption and devastation settle in. We have entered a new era when it comes to disaster loss, one that will require new ways of thinking, acting, and living on this planet that 7.4 billion of us call home.
With this in mind, I wanted to share a little about what we are committed to at the Natural Hazards Center. As the calendar turned from 2017 to 2018, we at the Center spent some time considering our personal and our collective resolutions.
Our team is deeply concerned with ameliorating the harm and suffering caused by these disasters. Thus, we have committed to assuring everything that we do here at this Center revolves around:
Translating and sharing critical information that can help stem the tide of disaster losses.

Advancing new knowledge to ensure that we continually learn from people who confront all kinds of hazards in their daily lives.

Bringing together researchers, practitioners, policy makers, and the private sector to see how we might act collectively to envision a more just, equitable, and resilient future.

Training and mentoring the diverse next generation of leaders to engage in wise, evidence-informed actions that ultimately reduce disaster risk.
As we look out in the world, we recognize the monumental challenges that lie ahead. But we also see endless capacity, creativity, and possibility. We know that so much of the suffering that we see today is linked to natural processes, but is also ultimately generated by human decision-making and actions. That insight does not lead us to despair. Instead, it gives us hope. If human beings created this situation, that means we can work together to change it for the better. That is a resolution I hope we can all get behind.
Please know that the entire Natural Hazards Center team is wishing each of you a meaningful and productive 2018. We would love to learn about what you resolve to do in the face of an ever more turbulent world, which is both our current condition and collective responsibility.
Please take care of yourself and others.
Lori Peek, Director
Natural Hazards Center