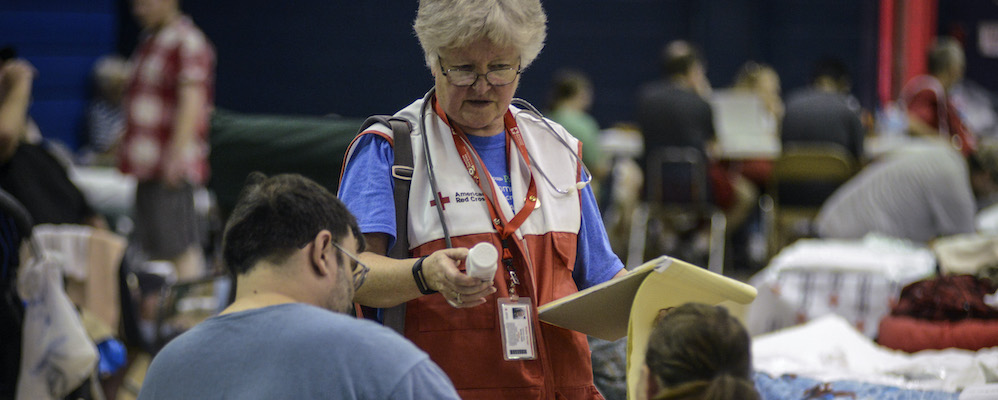 An American Red Cross nurse assesses the healthcare needs of a shelter resident in Panama City, Florida. ©Daniel Cima/American Red Cross, 2018.
Implications for Public Health
Public health surveillance in disaster shelters is a critical tool to identify and address immediate health needs and future preparedness.
The 2017 hurricane season was one of the most active seasons on record. Hurricanes Harvey, Irma, and Maria caused catastrophic damage, including the widespread loss of power, destruction of homes, and critical infrastructure failures. Although some people remained in their homes, thousands of residents sought refuge at available shelters, many of which were opened in partnership with the American Red Cross.
During such large-scale disaster responses, public health surveillance is an important means for tracking emerging illnesses and injuries, identifying populations disproportionately impacted, and assessing the effectiveness of response efforts. Timely morbidity surveillance—or monitoring and tracking physical and emotional well-being—of sheltered populations is crucial for identifying and addressing immediate needs and can improve preparedness for future disasters.
Shelter health surveillance is an efficient means of quickly identifying and characterizing health issues and concerns in sheltered populations. Identifying and foreseeing potential or actual health risks is a fundamental duty of those managing disasters, and shelter data enables them in developing evidence-based strategies to address identified needs. When incorporated into broader surveillance strategies using multiple data sources, shelter surveillance can assist disaster epidemiologists paint a more comprehensive picture of community health.
Collecting Health Data in Disaster Response
The American Red Cross collects information on daily visits to the shelter health clinic using an Aggregate Morbidity Report form. This is also referred to as the "tally form" because daily client visits are tallied on a separate form every 24 hours. Because disasters often create travel and communication challenges that complicate the collection and transmission of surveillance data, the Centers for Disease Control and Prevention (CDC) and the American Red Cross began a protocol during the 2012 Hurricane Sandy response to transmit tally forms to the CDC via cellular phone photographs for remote real-time reporting.
This protocol was challenged during the complicated 2017 hurricane response in the U.S. Virgin Islands (USVI). In that response, the majority of communication systems in the region were down. There were also limited American Red Cross Disaster Health Services staff on the islands. In response, we partnered with shelter volunteers to implement the tally form and collect the data every 48 hours in person. Currently, the American Red Cross and CDC are collaborating with a third party to develop an electronic version of the form that can be easily adopted to rapidly collect and report information.
The tally form collects demographic information on clients who visit shelter clinics, including reason for visit (i.e., the complaint with which person presented or reason why they sought care) and how it was resolved. Visit reasons—for example, pain, blood pressure checks, or gastrointestinal illnesses—are broadly categorized into five main groups: (1) acute illness/symptoms, (2) injuries, (3) behavioral or mental health, (4) exacerbation of chronic illness, and (5) health care maintenance. Clients can have multiple reasons for each visit, and a client visit disposition could include both treatment at the shelter and referral to other locations such as hospitals or dental offices. If an individual accesses care more than once per day, each visit is counted individually and is included in the total.
Seeking Care in the 2017 Hurricane Response
Morbidity data were collected from 24 American Red Cross shelters in Texas between August and September 2017 and from all five shelters on St. Thomas and St. Croix between September and October 2017. Similar to other disasters, exacerbation of chronic disease was a top reason for visits in both Texas and the U.S. Virgin Islands during the 2017 hurricane season. Respiratory and gastrointestinal visits remain of concern in mass sheltering situations, although these visits represent a small percentage overall, with pain being the most frequent reason for an acute illness-related visit. These data demonstrate that routine health maintenance and chronic conditions are of more concern in general population shelters than infectious diseases.
Behavioral health is another important aspect of shelter surveillance. This is because displaced populations may be more at risk of experiencing mental health effects related to the disaster. Unfortunately, the tally form likely underrepresents behavioral and mental health because individuals may be less likely to seek mental health care from shelter nursing stations and there are often separate mental health teams within the shelters.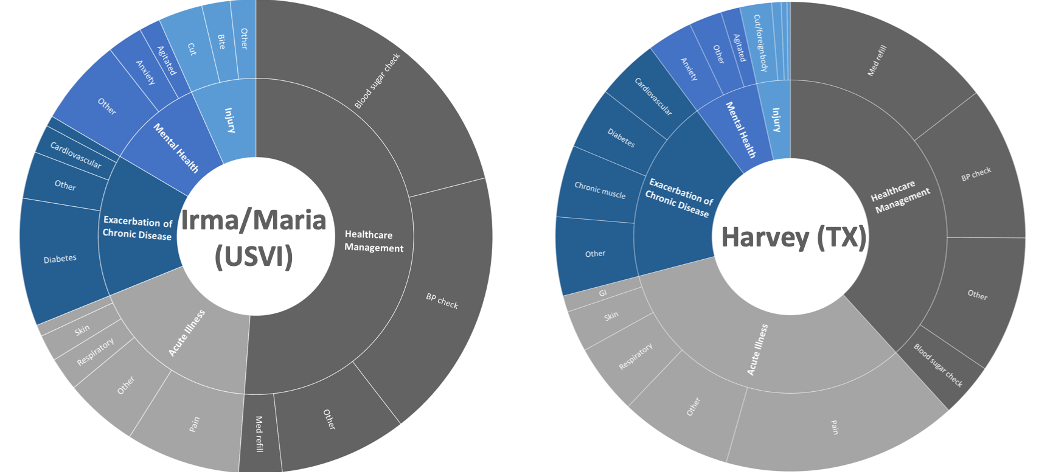 Reasons for Accessing Shelter Health Services
Why These Data Matter
Shelter staff provide important services for those displaced during disasters, especially for populations disproportionately impacted, such as older adults and those with chronic illnesses. The 2017 hurricanes caused widespread power outages, reduced functionality of USVI hospitals, and closed clinics, disrupting health management and continuity of care. Therefore, the burden of chronic illness and routine care was partially placed on shelter volunteers.
During the response to Hurricanes Irma and Maria in USVI, shelter surveillance was one of the only sources of near real-time public health data available. These data were integral to the response and allowed for the USVI Department of Health to monitor the well-being of shelter populations, determine changing needs, and assist in resource allocation based on evidence.
Shelter surveillance can quickly identify and characterize health issues in disaster shelters, allowing evidence-based strategies that address identified needs to be developed. When woven into broad surveillance strategies along with other data sources, shelter data can help disaster epidemiologists to provide more comprehensive community health information, as well as plan for and respond to health issues both in and outside of shelters.
Suggested Tools
---
Disaster-Related Morbidity and Mortality Surveillance eLearning
Centers for Disease Control and Prevention
This eLearning module discusses why disaster-related public health surveillance is important, reviews the purpose of morbidity and mortality surveillance, and offers tools to assist in conducting both. The goal is to provide an overview of disaster surveillance, so the reader has a baseline understanding of surveillance activities conducted throughout a disaster response.
Disaster-Related Morbidity Surveillance Forms
Centers for Disease Control and Prevention
This website provides various forms to capture ad-hoc active surveillance within acute care facilities such as shelters with medical/nursing staff. The Natural Disaster Morbidity Surveillance Tally Sheet is modeled after the American Red Cross Aggregate Morbidity Report Form.
A Primer for Understanding the Principles and Practices of Disaster Surveillance in the United States
Centers for Disease Control and Prevention
This document outlines a public health surveillance approach that may be used during a disaster response and reviews principles and practices of disaster surveillance. It provides key concepts and challenges to consider when conducting disaster surveillance.
---
For a list of all the tools included in this special collection, visit the Mass Sheltering Tool Index. A list of further readings are also available.