A temporary public park is located at the site of a demolished building in the Christchurch Central Business District two years after a 6.3 magnitude earthquake struck New Zealand. ©Graham Tobin, 2013.
Even after utilities are restored and streets cleared, the long rebuilding process reduces public use of damaged business districts. Residents encountering piles of debris and rubble in places where they typically conducted business or gathered socially may avoid the downtown. Using vacant spaces in artistic and commemorative ways can help bring people back to the city center after a disaster. Many of these efforts will be temporary, some will be transitional, and others might find a permanent home.
The Opportunity
The heightened sense of solidarity that emerges after a disaster leaves nonprofit organizations poised to convert deserted sites into spaces for reflection and community building during early and mid-term recovery stages. Research from the 2011 earthquake sequence in Christchurch, New Zealand, found that several nonprofit organizations emerged to better connect the public with the rebuilding process. These community-focused groups temporarily turned demolition sites into seating areas, gardens, and art installations, thereby reframing reconstruction as interactive. Encountering these structures and reuniting with other community members in these spaces encouraged people to return to the downtown.
Revitalized areas can lead to sports matches beneath structures made of plastic bottles; family outings in mazes of hanging tubes; poetry readings under temporary wooden archways, and festivals against a backdrop of suspended traffic cones. Select spaces may also be reserved to memorialize losses from the disaster. For instance, one effort involved placing empty chairs to recognize each life lost. Another offered a transitional place of worship. These reimagined spaces not only commemorate the shared recent history, but also regenerate personal networks and commerce.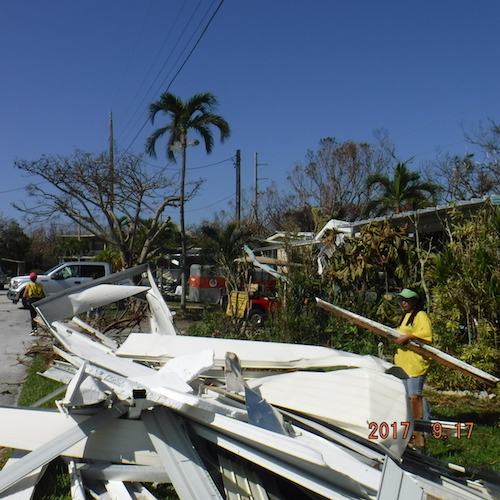 Volunteers from a faith-based nonprofit clear debris from the Florida Keys after Hurricane Irma. ©Denny Orellana, 2017.
As these installations move from one demolished building site to the next, people's comfort with the changing landscape expands and resilience builds throughout the city. Successful efforts to facilitate interactions with the built environment from Christchurch have already been exported to facilitate recovery after the Tohoku Earthquake in Japan and Superstorm Sandy in the United States, as well as incorporated into the 100 Resilient Cities initiative.
The Process
The ability to provide input to emergency management officials about recovery decisions allows nonprofit organizations to advocate for policies that facilitate efforts, such as reducing land-use restrictions so temporary installations and gathering places are allowed. Since many organizations involved in transitional use of space emerge after a disaster, they might need to rely on the personal connections of staff and board members to connect them with local officials and nonprofit partners in order to integrate with the formal recovery process. Consequently, nonprofit representation can be delayed or insufficient. Deregulation, however, can be negotiated through their local connections in the interim.
After receiving access to use a space temporarily, nonprofit organizations can drive community building by organizing residents to clear debris, install structures, or host events that represent their ongoing concerns and desires for the future of the city, which could range from the need for park benches and community gardens to spaces filled with metal drums for public performances. By actively participating in projects, communities revitalize both the demolition sites and their connections to the place.
The Challenge
What we can learn from Christchurch is that, through creative uses of vacant spaces, social interaction in central business districts can be regenerated during rebuilding. Empowering nonprofit organizations to organize citizens and change rebuilding from a traditional top-down process to one that is collaborative will intersperse art, music, and greenery in areas with significant building damage. These strategies could be used now to connect communities in cities facing a long recoveries, such as Houston, Mexico City, and San Juan. Time will tell to what extent each city is ready to overcome legal and structural barriers to streamlining participation in recovery, improving community resilience, and strengthening economic outcomes in their downtown areas.