Johnson-Fernandez family members gather for regular updates from their cousin Connie in the backyard of her Dallas-area home. ©Katherine Browne, 2005.
When Hurricane Harvey stranded thousands of people in Houston neighborhoods, emergency responders shared the call to duty with residents who rushed to save lives. One such initiative was Houston Harvey Rescue, organized by three men who used Google maps, Facebook, and a walkie talkie app to help coordinate hundreds of rescue efforts. Skilled boaters are part of Houston's cultural landscape, and in the aftermath of the storm, local people improvised to match available boaters to stranded residents. Houston Harvey Rescue also supplied critical local knowledge to outside volunteers, including the Cajun Navy.
The blending of such emergent efforts with official actions seems natural. Yet, the impulse to recognize local people as having relevant skills has to be learned. Why? Because institutions and organizations often see expertise as a credentialed, narrowly defined attribute. After a disaster, emergency managers often turn away what they call unaffiliated volunteers, but during major catastrophes, there are often not enough trained hands. When the relentless rains from Hurricane Harvey produced an epic scale of flooding, emergent groups of local volunteers were not turned away and, as a result, the reach of first responders was vastly extended. The capacity and resourcefulness of local people helped save many lives, almost certainly contributing to the low death toll and the successful rescue efforts.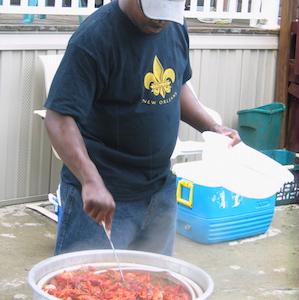 A family member prepares a crawfish boil for a family gathering in St. Bernard Parish. These get-togethers were especially important while the family was displaced. ©Katherine Browne, 2010.
This compelling example from the Harvey response phase can translate into a fuller, faster long-term recovery if disaster professionals tap into local values and strengths. Operationalizing this idea involves adopting a cultural lens of insight that begins by asking a basic question: Who lives here? This cultural lens works two ways.
First, it reveals that in every disaster, affected residents have distinct histories and ways of knowing and doing that become highly relevant to the success of their recovery.
Second, a cultural lens shows how organizations that attempt to help people recover operate according to their own cultural norms that shape the protocols and processes of recovery. Yet, as my previous work has shown, such "recovery cultures" devoted to helping survivors are rarely examined for the assumptions they make. Anthropological research has shown repeatedly how the embedded norms and expectations of groups dispatched to help often prove a poor match for meeting the embedded norms and expectations of survivors in a given area. As my book details, when the gaps between an organization's "recovery culture" and the "wounded culture" of local survivors are not addressed, misunderstandings and conflict can turn into unexpected struggles and dramatically increase the suffering of survivors.
A Case in Point: My long-term, post-Katrina research with an African-American family of more than 150 people demonstrates how cultural values and practices take on special importance during collective loss and devastation. The storm hit hardest in St. Bernard Parish—the area where the Johnson-Fernandez family members had always lived.
Family members found refuge with a cousin, Connie, in Dallas. In her home, the family re-enacted their weekly routine of cooking gumbo and other seafood dishes that had brought family together to worship, eat, and share stories for generations. To maintain the social bonds of the family, the men made frequent 1,000-mile roundtrips to load up fresh seafood from home and bring it back for the gumbo queens to cook. Held together by cultural practices they could replicate, they remained optimistic through the months-long displacement.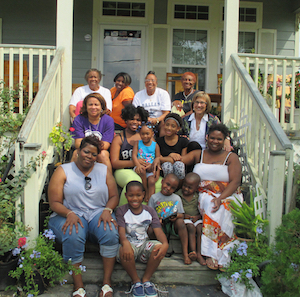 The Johnson-Fernandez family pose together after far too many years of being forced down a path of recovery that created unnecessary suffering, health problems, and a lack of well-being of many members. ©Katherine Browne, 2015.
When they returned to home ground, the family was ready and resolved to take on the challenges facing them. But the recovery system did not ask questions about who they were or what they needed. If recovery workers had asked, they would have understood that Federal Emergency Management Agency trailers were not enough to sustain large families. They would have realized that thousands of people in the area, including black families from the bayou, had long maintained their group strength and identity through regular gatherings that provided comfort, belonging, and a sense of control. The 240-square-foot trailers offered shelter, but not a solution for recovery. People jammed into this or that trailer could not easily share home-cooked food, stories, or childcare. And if not there, then where?
The weekly gatherings had sustained the family through every crisis in memory. But with no place to gather, those practices were drained of their potency and people began to suffer health consequences. In a painful irony, the recovery culture deprived the wounded culture of the energy it needed to thrive.
When people suffer great loss and collective upheaval, they require recovery efforts that support their homegrown style of resilience. In Houston's response phase, we witnessed a striking degree of local resourcefulness, but how will long-term recovery efforts support such adaptations? The answer will depend on a deeper awareness of who lives there and a clearer commitment to supporting local capacity that is powered by the strength of high-functioning cultural systems.
When disaster professionals act in partnership with those who understand the cultural strengths and values of affected populations, their help feeds the agency, efficacy, and recognition that mark the path to genuine recovery.