(L) Knitted Floodwall project in progress (R) Knitted Floodwall Project completed © Martina O'Brien
By Elke Weesjes
In response to the Observer's previous issue, which was dedicated to art and disaster, I received an email from a friend who informed me about a wonderful art project called The Knitted Flood Wall. Measuring 45 feet long by 8 feet wide, this knitted replica floodwall was created by Irish artist Martina O'Brien in the aftermath of the flooding of the river Dodder on October 24, 2011.
The Dodder—one of the three main rivers in Dublin, Ireland, has a history of flooding. The river originates on the northern slopes of the Kippure in the Dublin Mountains and flows down through the city areas of Donnybrook and Ballsbridge. Because of its steep gradient, the Dodder quickly responds to rainstorms and is known as a flashy river. In the last century it has overflowed its banks on many occasions, causing damage to adjacent properties. One of the most severe floods prior to 2011 occurred on August 25, 1986, when Hurricane Charley passed south of Ireland. In 24 hours, eight inches of rain poured down on Kippure Mountain while four inches fell on Dublin, causing heavy river flooding and affecting thousands of properties in the city. Another notable flood happened on February 1, 2002, when more than 600 properties were flooded.
During the most recent flooding, on October 24, 2011, a similar number of properties were affected. O'Brien, who had been living in the Ballsbridge area—a neighborhood prone to flooding— since 2004, was at home when her neighbor knocked on her door to alert her about the river's increasing height. "Within minutes the water started to gush over the riverbank walls towards my home," said O'Brien in an email. "Brisk attempts were made to keep the water out but it was an impossible task and everything on the ground level was very quickly destroyed by the flood." O'Brien wasn't alone. One hundred and ninety-two homes in her immediate neighborhood were destroyed and many families were rendered homeless. "The flood was devastating and afterwards, a feeling of complete helplessness set in," O'Brien said. "My neighbors and I spent the following days walking around in a daze of shock and anger at what had happened."
"The flood was devastating and afterwards, a feeling of complete helplessness set in"
After the initial shock had somewhat subsided, O'Brien jumped into action. She decided that something must be done and was determined to raise awareness about the struggles that her community—now uninsured because insurance companies refuse to provide coverage—had encountered since the floods. She explained that after each flood there were calls for better protection, but unfortunately these efforts faded as quickly as the water retracted.
"I wanted to make a body of work that united us as a group and could result in a coming together to take a stance, to commemorate our experience, and to bring attention to our struggle," O'Brien said. "I wanted to make a statement about a community that has had enough of living in fear of the next heavy rainfall and focus on the largely elderly population in the area whose stories of 60, 70, and 80 years of living beside the Dodder tell of an exceptionally bittersweet relationship."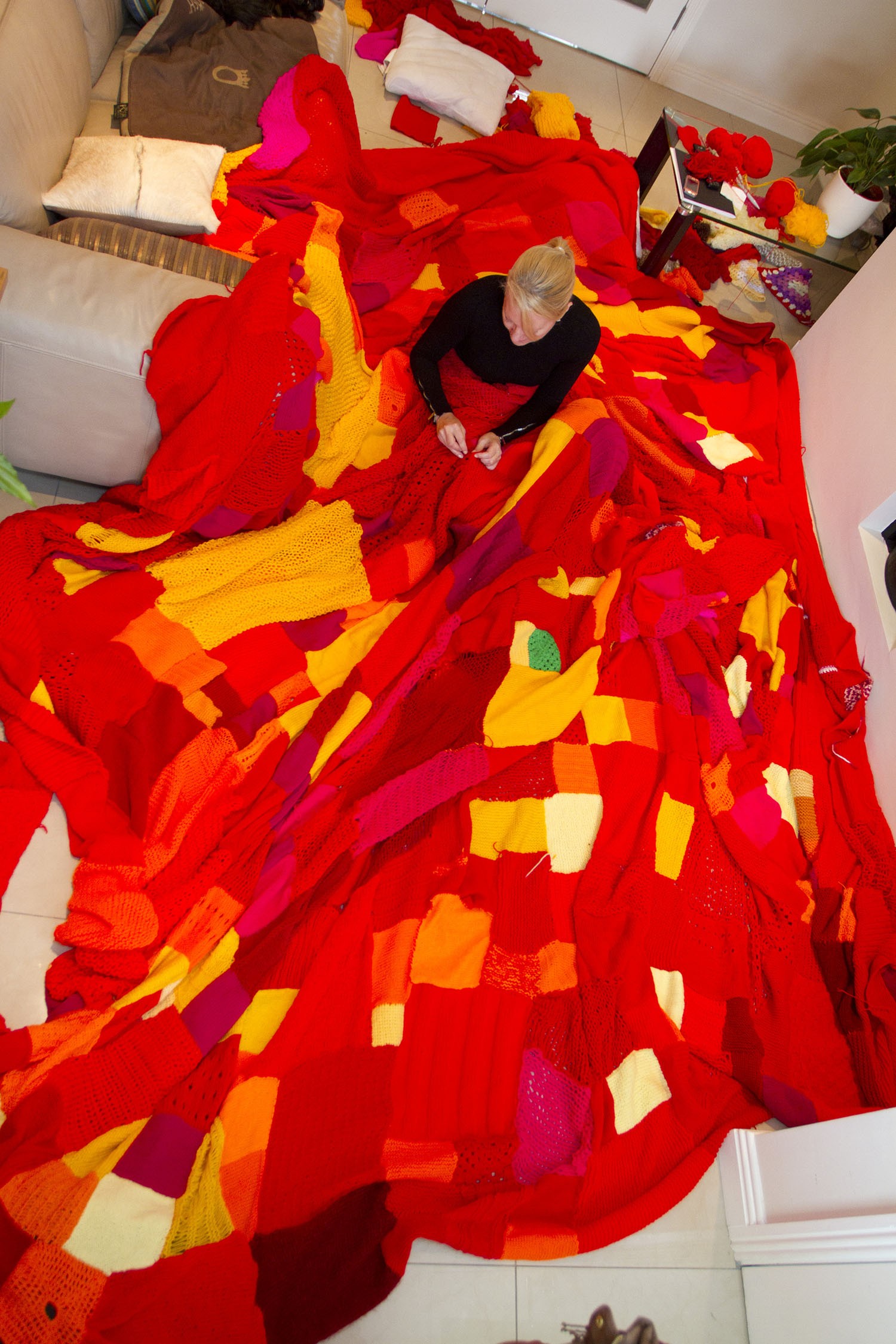 O'Brien developed the idea to knit a floodwall. She had a number of aims and objectives for the art project. Firstly, she wanted it to be a genuinely collaborative and participatory project with residents and their surrounding area. Secondly, it was to enable a dialogue and a stronger bond within the community but also provide a vehicle that could open up conversations with local authorities. Finally, it was to involve the making of a replica velocity map taken from the Catchment Flood Risk Assessment and Management (CFRAMS) study of the River Dodder by Dublin City Council to build a visual spectacle in which to highlight the issue of flooding.
In the meantime, the Ballsbridge Residence Association was set up in the area to bring the community together to help residents deal with the local authorities, politicians, and government bodies. O'Brien became a committee member. It was the first time she got involved in anything like this, but she felt the need to help in whatever way she could.
"I proposed my idea of knitting a floodwall to the committee and it was laughed at at first, which is understandable as it was a little left of the center as an idea goes," said O'Brien. "It was also met with some resistance by some members who felt it may be seen as a vehicle of protest."
Regardless of these negative voices, O'Brien proceeded with the concept and presented the idea at a community meeting where she asked people to sign up. After the giggles subsided and the objectors softened their opinions, support for the knitted floodwall project grew. O'Brien arranged weekly meet-ups to get the momentum rolling. "These meet-ups were incredible as they acted as a space to chat and bond," said O'Brien. "As people were sharing their experiences, the meetings became a source of group therapy and gave people a sense of proactive empowerment."
Since there was no community center in the area, O'Brien suggested that the meetings take place in the local pub. This suggestion again caused some giggles: "I wouldn't be seen dead knitting in my local [bar]' comments," O'Brien explained. However, as the weeks rolled on, more and more people gathered and the act of knitting in the pub became somewhat of a spectacle in itself. Most of the 20-odd knitters, were female and ranged from 20 to 70 in age. The men organized the mechanics of the actual structure.

(L) Wall prior to reinforcement (R) New defense wall © Martina O'Brien
"Once the larger community began to see the fruits of our labors grow with sacks of knitting being gathered, the project was given more respect and gradually it was championed by everybody as being the most important thing this community has ever done—their words, not mine!," said O'Brien. "On completion, I invited the Office of Public Work's head engineers, politicians, and the Lord Major of Dublin to attend the 'opening' and by association, they were made fully aware of our situation and as a result have since initiated the erection of a flood defense wall in the area."
The Knitted Flood Wall project was a huge success; the new flood defense wall is almost finished and should be completed by the end of the year.
O'Brien continues to explore the relationship of communities with the river. Her new project­—Casting Territory: A Contemporary River Keepers' Index of Lesser Known Patterns, which was exhibited earlier this year—is a collaboration with The Dodder Anglers Club and utilizes the art of fly-tying to explore the angler's unique knowledge of flora and fauna, physical geography and role as guardians of the River Dodder.
You can contact Martina O'Brien at martinalobrien@gmail.com or visit her website www.martinaobrien.ie.