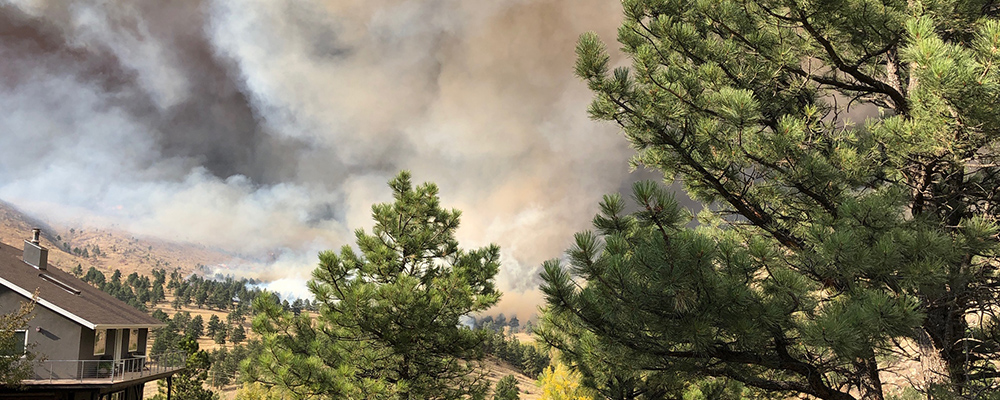 Smoke covers the mountain above the author's neighborhood as she evacuates from the Calwood Fire. ©Lori Peek, 2020.
I had just returned from walking our dog on Saturday afternoon when my husband informed me that the Calwood Fire had broken out about 10 miles from our home in northwest Boulder County, Colorado. Strong winds pushed the rapidly expanding wildfire toward us as huge billowing smoke clouds formed overhead. Less than three hours after the fire started, we were forced to flee as spot fires ignited the parched land on the mountain that stands directly behind our property.
All summer long, I have obsessively followed news reports about the millions of acres burning across our nation. I've watched as wildfire smoke from California to Fort Collins, Colorado, has blotted out the sun in Boulder numerous times this year. I have listened carefully to hundreds of heart-wrenching disaster evacuation stories during my career, and I've done my best to ready myself and my family for disasters. Even still, when it came time to evacuate, I was unprepared for just how terrifying it would feel to pull away from our neighborhood not knowing if others were safe and unsure if we would ever return.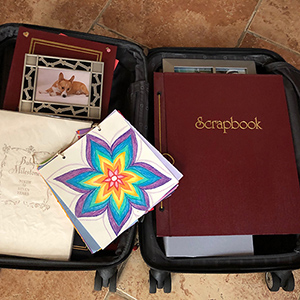 Identify what irreplacable items you would evacuate with before disaster strikes. ©Lori Peek, 2020.
As I write these words three days later, I can still hear the screams of emergency sirens echoing in my ears. I can still feel the buzz of slurry planes flying overhead. And so I am writing this to you, wherever you are, because the time is now to make provisions for whatever risks you may face.
Partners in Preparedness
Please start with the people in your household. Whether it's your family, friends, or roommates—whomever you live with, I encourage you to work through the five Ps below with the people you care about. If you have children or someone in your family with access and functional needs, involve them as they have much to contribute and to gain from getting ready. If you live alone, then reach out to someone who can be your partner in preparedness. Whatever your household composition, it helps to have support and do this with others.
Pets. Beloved pets and large animals that you are responsible for should be part of your preparedness and evacuation planning. We have a dog named Duke, who is thankfully never too far from my side. My husband and I both keep an extra leash for him in our vehicles, and so it was easy to load him and his food up in my car. If you have livestock or a large number of pets in your house, please think now about what you will do if disaster looms. Some of the most heartbreaking stories that I've heard over the years are those of people who regret they were not in a position to save their animals, so please do all you can to protect them now.
Possessions. Even for evacuations with longer lead times, you won't be able to take all your possessions. Please take out your camera and take pictures of every room in your home, including the inside of your closets and cupboards. Don't worry if they are messy! Hopefully you will never have to share these images, but if you do have to file an insurance claim, you will be thankful for the photos—clutter and all.
After you're done taking pictures, take another walk through with your irreplaceable possessions in mind. What are the items that you will take with you if you are forced to evacuate your home? Make a list as you answer that question for yourself. For me, it was my family photos, the last cookbook my grandma gave me before she died, my mother's jewelry, a Bible I was given at age six, notes from my students, signed copies of books I've collected, and my laptop. For my husband, it was his external hard drives, a gun passed down by his grandfather, and a precious bottle of whiskey that he has been waiting to open. Our priorities were as varied as our possessions—that's why it is so important that you take stock of what matters to you.
Paperwork. Do you know where your birth certificate, passport, or social security card are? What about your child's immunization records or education plan? Do you have a checkbook, credit card, or cash on hand? Being able to locate these items in a rush is integral to evacuation planning. Thanks to the lessons I've learned from emergency managers and disaster survivors, I had already made photocopies of all of our vital documents and stored the originals in a safe place outside of my home. This may seem a bit over the top to some, but after hearing stories from people who battled for months or even years to re-establish their documentation, I take it very seriously.
Packing. Before the COVID-19 pandemic, I traveled quite frequently. For that reason, I always kept a bag packed with my toiletries, an extra pair of glasses, my contact lenses, and other things required for day-to-day functioning. I strongly recommend that you, too, pack a go bag that has all of your necessary things in one place, along with at least two or three changes of clothes. If you take prescription medications, leave a note in the bag that reminds you to grab those before you go.
On the day that we evacuated, it was hot and so I didn't think to take a hat, gloves, or a coat. The next morning—which was just above freezing—I was reminded to update my evacuation list for all types of weather conditions.
People. Who are the people that will need to be contacted if you have to leave your home? Do you have their phone numbers somewhere accessible if you forget or lose your cell phone in the rush of an evacuation? Remember, also, to develop a household and school reunification plan, as families are not always together when disaster strikes.
Cultivate relationships, too, and draw on the strength of others. My dear friend Jennifer Tobin (who is also deputy administrator of the Natural Hazards Center) was able to spur me and my husband into high gear and understand the need to evacuate before authorities knocked on the door to tell us to leave. I trust Jennifer with my life. Who do you trust with yours? Identify those people, and then work together to support one another in your preparedness planning. These social networks may just save you during a disaster.
Afterword
Since the fire that drove us from our home started, we have confirmed that our house is still standing. But sadly, at least 26 other homes to the north of us have burned to the ground. The Boulder County Office of Emergency Management is preparing the public for more bad news, letting residents know that they "anticipate that more buildings will be added to the list" as damage assessment teams begin accessing other areas impacted by the fire.
The much better news they have shared is that there have been no deaths, all missing persons have been accounted for, they are paying special attention to potentially vulnerable populations, and they have made progress containing the fire. Hundreds of firefighters are still on the ground and in the air as of this writing. They are doing all they can to battle the blaze—now the largest in Boulder County history—as are other dedicated emergency responders fighting fires across the country. They put their lives on the line daily to protect people and property. I hope we can all do what we can, with what we have, to help play our part as well.
As I write to you from my status as a wildfire evacuee, I urge you: Please don't wait—the time to prepare has always been now.
Please take care of yourself and others,
Lori Peek, Director
Natural Hazards Center