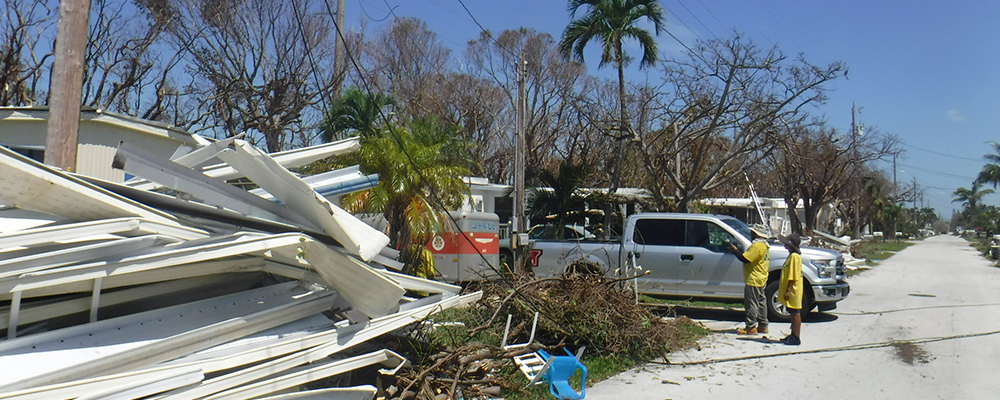 Volunteers clear debris amid fallen power lines in the Florida Keys after Hurricane Irma.. ©Denny Orellana, 2017

By Michael Allen and Nicole Hutton
When Hurricane Michael—one of the most powerful storms in recorded history—made landfall along Florida's Panhandle on October 10, 2018 only 184 of Florida's nursing homes met the state's new emergency power supply regulations. The regulations had been introduced year earlier in an attempt to avoid deaths caused when air conditioning or life-sustaining equipment failed. Although compliance with the rule had been mandated by June 1, 2018, 523 facilities were given extensions—in part because of an increased demand for emergency power supply systems across the state.
The situation in Florida shows that using political pressure to fast-track legislation for improved safety doesn't necessarily result in timely execution or maximized benefits. Our research shows that the rush to meet deadlines for increased emergency power overwhelmed the elder-care industry.
Motives for Change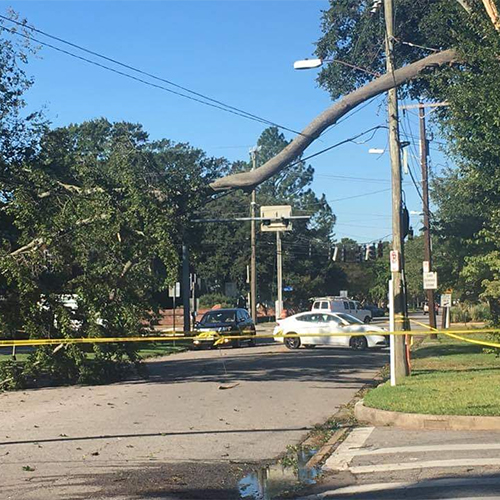 Downed trees and power lines block the road in Norfolk, Virginia, after Hurricane Michael . ©Jonathan Leib, 2018.
In September 2017, Governor Rick Scott used an emergency action to first initiate changes in power regulation after at least eight nursing home residents died because of Hurricane Irma-induced power outages. Although his initial order allowed only sixty days for nursing homes to comply, when Rule 59A-4.1265, Emergency Environmental Control for Nursing Homes was enacted in March 2018, the compliance deadline was set for June 1, 2018—the beginning of hurricane season. Under the new regulations, facilities are required to provide a minimum of 30 square feet of cooled space (81°F or less) for ninety-six hours in the event of an electrical power outage. Unfortunately, waits of up to four months to receive sufficient generator equipment, a lack of technicians to install it, and burdened inspectors to approve installations led to many extensions being granted. By January 1, 2019, the Florida Agency for Health Care Administration reported that there was still no implementation at 489 facilities. With Rick Scott now serving as state Senator, nursing home safety remains in flux as a new governor faces the legal ramifications of noncompliance.
Crisis and Compliance
While the execution of the emergency action and subsequent regulations suffered from unforeseen consequences, the reasoning behind the rules is sound and necessary. Body temperature regulation is more difficult for the elderly. During periods of elevated temperature, thermoregulatory capacity is reduced so, lacking a moderately cooled environment, those with underlying medical conditions are at increased risk for heat-related health issues—especially when humidity is high.
For instance, Hurricanes Irma and Michael knocked out power for 6.5 million and 325,000 Floridians, respectively. Temperatures in the damaged areas of south and central Florida exceeded 90 °F with dew points above 70°F before power was fully restored after Hurricane Irma. This combination of temperature and humidity heightens the risk for adverse heat-related health outcomes.
Temperatures in the days following Hurricane Michael were less extreme than those observed after Hurricane Irma because a cold front helped steer the tropical system and brought relatively cool air in the days following landfall. However, facilities that didn't have compliant emergency power systems would have still been strained trying to maintain the new standard of cooled space when the temperature reaching 88°F on October 11, 2018. The expectation of prolonged power outages in heavily damaged areas led the evacuation of 10 nursing homes in advance of the Hurricane and four more after the storm, a total of approximately 1,600 residents.
Conditions Conducive to Change
Our research into nursing homes in two counties affected by Hurricane Irma found that the capacity to maintain temperatures and life-sustaining equipment, such as refrigeration for diabetes medication and outlets for continuous oxygen compression, was not consistent within each county or between counties. After the emergency order was issued, we assessed 12 nursing homes from the areas with the highest concentrations of facilities in Collier and Polk counties. Only three facilities—one in Collier and two in Polk—were compliant before the emergency action deadline. The other facilities had extensions up to January 1, 2019.
The condition and capacity of existing equipment and clear procedures to initiate and approve contract work facilitated compliance. Emergency power plans at some facilities went beyond the cooling requirements to include additional systems, such as heat and lights, but in each of the counties, only one facility had planned for enough emergency power to operate the entire facility. This is a missed opportunity to maximize emergency access to life-sustaining equipment.
It's imperative to expand consistent emergency power supply legislation to other hazard-prone states if we're going to prevent deaths from post-disaster heatwaves—but the implementation must be done thoughtfully, as Florida's regulations have shown. Standards for emergency power supplies at nursing homes across the country should consider the area's individual extreme temperatures and power failure risk. Furthermore, for reforms to be comprehensive and reduce compliance delays, requirements and industry-specific resources need to be considered in advance. Only then will this vital legislation pack the power to prevent deaths.