Researchers Meeting Overview
The 2018 Researchers Meeting is organized by the International Research Committee on Disasters (IRCD) and the Natural Hazards Center, with funding support from the National Science Foundation.
More than 200 people registered for the meeting this year—the largest turnout since the meeting was first convened in Colorado. Participants represent a range of disciplines in the social and behavioral sciences, engineering, humanities, and public health and medicine. About 23 percent of attendees are undergraduate or graduate students and the remainder are researchers at academic institutions or in government agencies, non-profit organizations, or the private sector. Registrants hail from across the United States and have also traveled here from China, Hong Kong, Italy, Japan, Korea, New Zealand, Singapore, Taiwan, and the United Kingdom.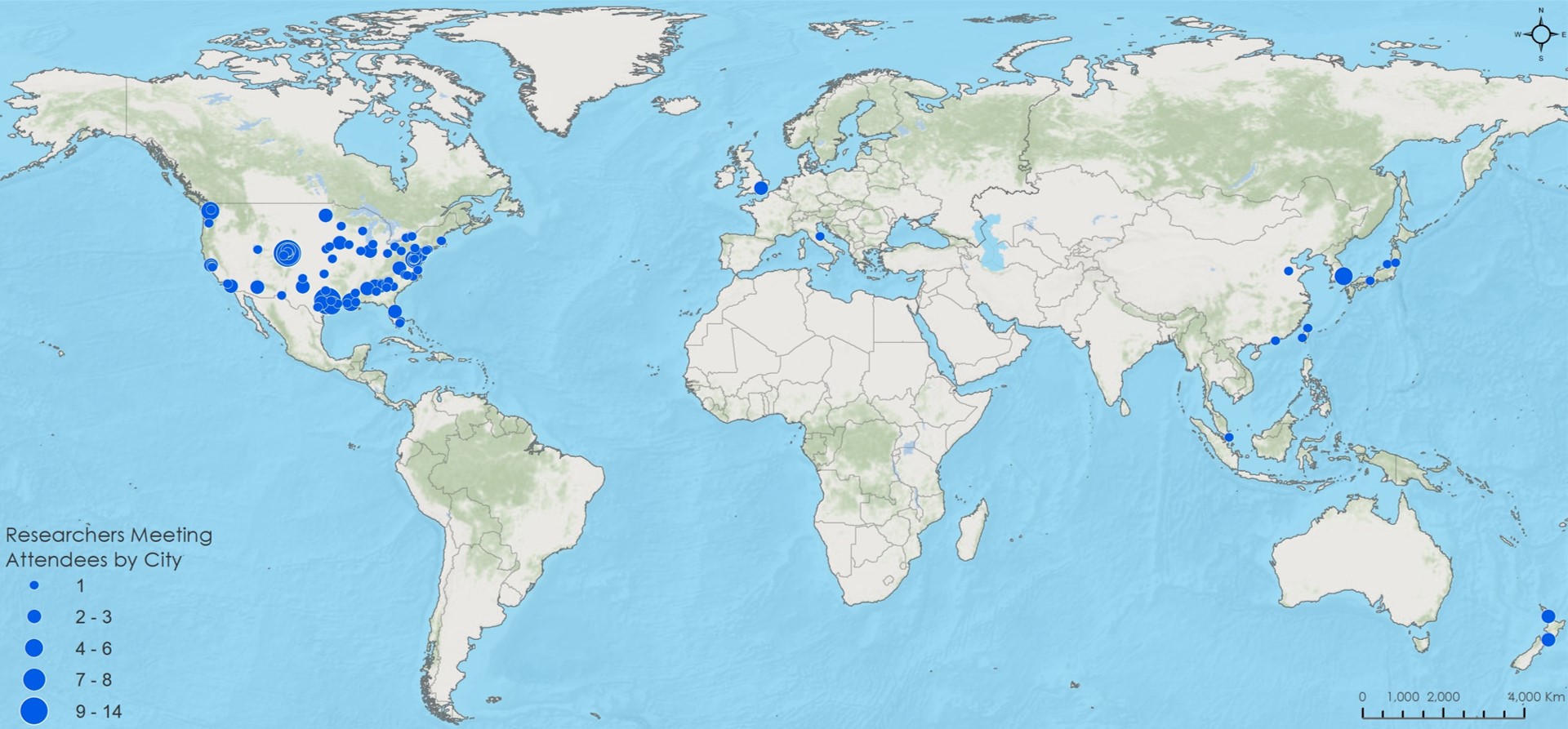 Map of 2018 Researchers Meeting attendees. Map created by Mason Mathews. Source: Natural Hazards Center, 2018.
This annual meeting represents a crucial opportunity for long-time and newly-established members of the community to take stock of what we have learned and where we are heading in hazards research and disaster science. In light of the historic catastrophic losses experienced across the nation and around the world in 2017, the work of hazards and disaster researchers—which has always been of great societal importance—has taken on an even greater sense of urgency.
The Researchers Meeting is focused this year on improving rapid reconnaissance research and will feature interactive sessions designed to help identify pressing research needs, better coordinate researchers and research teams, and improve data collection, sharing, and archiving. The meeting features plenary sessions, papers presented in breakout sessions, and networking events.
The 2018 Researchers Meeting includes recent NSF RAPID grant investigators as well as those who have ongoing hazards- and disaster-related research projects. In addition, NSF program directors, leaders from federal mission agencies, directors of NSF Natural Hazards Engineering Research Infrastructure (NHERI) facilities, and leaders of disaster research coordinating networks are attending the meeting to share information, resources, and opportunities. Participants will also learn more about mentoring initiatives intended to support diverse next generation hazards and disaster researchers.
The associated webpages for this year's Researchers Meeting include a detailed schedule as well as an alphabetical listing of the presentation abstracts and the accompanying responses to prompts that were posed to advance thinking about rapid reconnaissance research and hazards and disaster scholarship. The four prompts are:
(1) What challenges or opportunities have you identified in terms of conducting rapid reconnaissance research?
(2) What has your research revealed regarding team formation, rapid reconnaissance research coordination, or interdisciplinary collaboration?
(3) Has your research contributed to innovative data collection strategies? If so, please elaborate.
(4) How can data sharing and archiving capabilities be enhanced to ensure the greatest scientific impact?
As the hazards and disaster field continues to grow, and as more investigators launch quick response post-disaster investigations, there is a pressing need to ensure that researchers are coordinating with one another, collaborating when possible, sharing data and data collection strategies, and adhering to the highest ethical standards. Joining together for this meeting will allow members of our community to share challenges and ideas regarding rapid reconnaissance research, with the goal of advancing hazards and disaster science and engineering while reducing future harm and improving social wellbeing.
Thank you for the work that you do. Please take care of yourself and others.
Lori Peek
Director, Natural Hazards Center
Professor, Department of Sociology
University of Colorado Boulder