After the Storm: A Dramatic Presentation About Recovery and Convergence After a Disaster
Mon. 7:00 to 8:30 p.m., Interlocken A
You can view highlights from the performance of After the Storm at the 2019 Natural Hazards Workshop at this link!
After the poster session, please join us for this special event that highlights how arts, science, and engineering can be combined to tell a compelling story. This play—which grew out of an NSF CAREER Award and was developed in partnership between Texas Tech University's School of Theatre and Dance and its Department of Civil, Environmental, and Construction Engineering—was designed to explain resilience in seven scenes. After the play, there will be a Q&A session with the playwright, cast, and crew.
Popcorn will be served!
Overview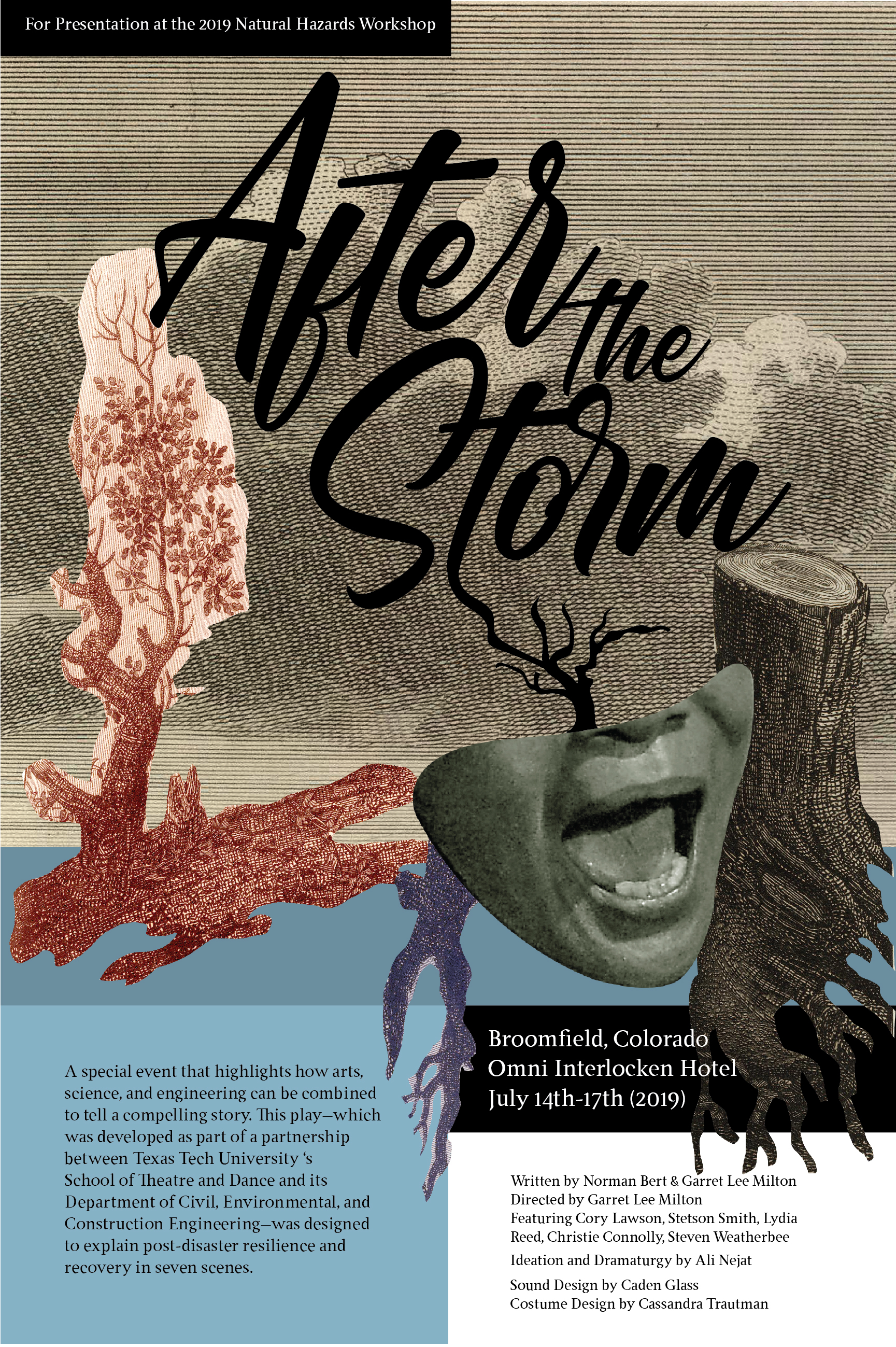 Written, directed, and performed by faculty and students from Texas Tech University, After the Storm presents snapshots of the survivors of the 2013 Moore, Oklahoma tornado as they attempt to rebuild their lives. The play portrays these survivors and problems they faced at three points in time: the week of the storm, six months after, and one year post-event. It examines the dynamics of recovery assistance policies and the different ways that recovery unfolds for those of varying socio-economic backgrounds. After the Storm highlights issues related to community and household recovery, distribution of aid, housing reconstruction, psychological needs and counseling for first responders and survivors, the plight of renters, and the bonding that can result in a suffering community.
After the Storm aims to provide an example of multilevel convergence in which academicians with various background can come together to share their work with policy makers and practitioners. Ultimately, the play is designed to facilitate a common understanding of survivors' post disaster needs and of the dynamics of recovery.
Background
After the Storm was initially envisioned by Ali Nejat as a broader impact of his NSF CAREER proposal. He saw a play as a novel medium to help communicate complex research results from academia to practitioners, policymakers, and other decisionmakers. Nejat shared survey results from research conducted in the aftermath of the 2013 Moore, Oklahoma tornado with Norman Bert of Texas Tech's School of Theatre and Dance, and Bert subsequently visited Oklahoma as well. This laid the foundation for Nejat and Bert to collaborate on the play. They were also joined by Garret Milton, a graduate student in Theatre and Dance, who directed the play and co-wrote the script with Norman Bert. The play was then cast to include student actors from Texas Tech University and Union College.
Creators Cast Designers
Back to Schedule